- What's New -
--------------------------------------------------------------------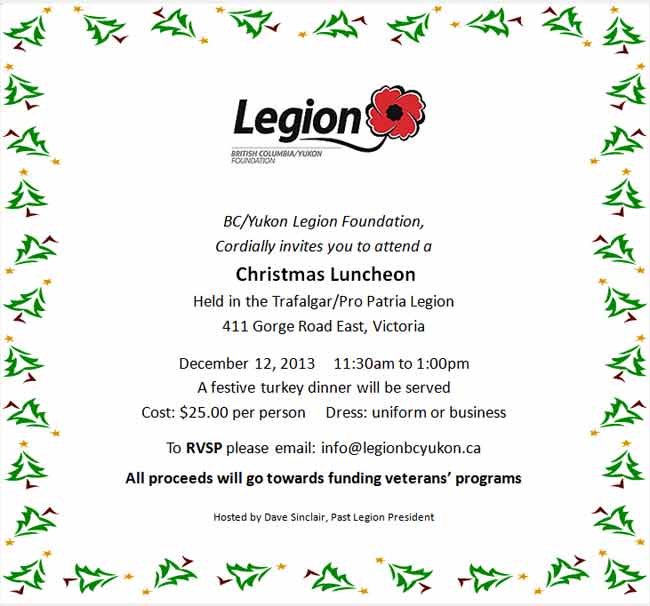 --------------------------------------------------------------------
Monument honouring airborne soldiers to be erected at Griesbach park
--------------------------------------------------------------------
Study Abroad for FREE with the Vimy Foundation!
The Vimy Pilgrimage Award
In recognition of young people who demonstrate outstanding service, positive contributions, notable deeds, bravery or leadership, the Vimy Foundation has created the Vimy Pilgrimage Award. Exceptional Canadian youth – ages 14 to 17 – who have served their peers, schools, communities, province or country are eligible. The Award consists of a fully funded, week-long educational program in Europe to study Canada's tremendous First World War effort. Scheduled in early April during Vimy week, the program will include classroom education and daily field trips to significant WWI sites and memorials.
The submission deadline for the Vimy Pilgrimage Award is midnight, November 11th.
-------------------------------------------------------------
 Royal Canadian Legion Poppy Campaign Starts
Statement by The Honourable Jim Karygiannis, Member of Parliament
for Scarborough-Agincourt and Liberal Critic for Veterans Affairs
Every year, from the last Friday in October to Remembrance Day, The Royal Canadian Legion conducts The Poppy Campaign.
After the artillery bombardments of the First World War had destroyed most of the vegetation, a determined wildflower, the poppy, began to flourish.  Its colour reminded soldiers of the blood lost on that very ground and inspired Canadian John McCrae to write his famous poem In Flanders Fields.  That poem, in turn, became the inspiration for The Royal Canada Legion Poppy Campaign.
On July 5, 1921, The Great War Veteran's Association in Canada, the predecessor of The Royal Canadian Legion, officially adopted the poppy as its Flower of Remembrance.
The poppy serves to recognize the sacrifices that were made for their freedom and it forges a bond between people of all ages.
In 2012, there were 18 million poppies worn in Canada, which, as a result, raised over $12 million for the Royal Canadian Legion's programs and services to support veterans and their families.
At this time of year, we remember the men and women who have paid the ultimate sacrifice for our freedom and way of life.  As we wear our red poppy as a tangible sign of remembrance, let us also remember those who bear the physical and mental injuries they sustained in their fight for our way of life.  While theirs was not the ultimate sacrifice, they have and are paying a heavy price for us.
As the Liberal Party Critic for Veterans Affairs, I encourage all Canadians to take the time to donate to The Poppy Campaign and proudly wear a poppy in remembrance.
All veterans - the men and women who have answered the call of their country and put their lives on the line for us - deserve our profound gratitude and respect.
--------------------------------------------------------------
--------------------------------------------------------------
Canadian Forces Dress Regulations (PDF)
--------------------------------------------------------------
Disinvite the PM from Veteran's Day events
--------------------------------------------------------------
Karygiannis disappointed in Throne Speech
OTTAWA - The Honourable Jim Karygiannis, Member of Parliament for Scarborough-Agincourt and Liberal Critic for Veterans Affairs, was disappointed that the Conservative Government's Speech from the Throne barely paid lip service to the men and women who have given so much for their country – our veterans.
"The government said 'it will always keep faith with those who have defended Canada with pride.'  However, they are closing Veterans Service Offices and laying off case workers." said Mr. Karygiannis.  "If they really want to 'keep faith' with our veterans, they should cut the red tape and ensure that each and every one of our veterans has access to every program they are entitled to."
Veterans Affairs Canada (VAC) is closing nine Veterans Affairs Offices across Canada.  Veterans will now access the programs and services offered by Veterans Affairs Canada through a 1-800 number or the Veterans Affairs Canada website.  Many veterans will have to drive several hours to see their case workers.
"The closing VAC offices and laying off case workers will not help veterans.  Service Canada staff do not know how to negotiate the front or back channels of VAC programs."  Mr. Karygiannis commented.  "Many veterans rely on the one-on-one support provided by their case workers, a 1-800 number and a computer is not a suitable substitute."
The Government's Throne Speech stated that it would 'build on our successful "Helmets to Hardhats" program to place veterans in good jobs.' 
"The 'Helmets to Hardhats' program is a great; however, it is a not-for profit, private initiative funded by the unions and the private sector.  The Harper Conservatives should not try to take credit for it."  Mr. Karygiannis stated.  "This Throne Speech does nothing for the veterans who have served us so valiantly and faithfully."
Contact:
Margot Doey-Vick, Media Relations
Office of the Hon. Jim Karygiannis, P.C., M.P.
Scarborough-Agincourt    (613)992-4501 or (416)321-2405

--------------------------------------------------------------
Old photos from the 1 Canadian Battalion
--------------------------------------------------------------
Dear Veterans and Friends,
Dave Palmer, the originator of this campaign, has asked us to forward the enclosed and attached information to Veterans and all Canadians. Please follow the following information:
Cards can be requested from Dave or print the attachment, it also prints well on black & white;
Fill out the information and sign it and copy the address on the card on the front of an envelope;
Place the card in the envelope and ensure you clearly include your return address in the upper left corner and mail it today, stamps are not required;
Distribute the info to all your friends. The signature of all Canadians is required;
Sign the petition at; http://www.gopetition.com/petitions/volunteer-service-medal-for-our-veterans.html or Google volunteer service medal for our troops and veterans
More info is available from Dave Palmer at: dave.w.palmer [at] rogers.com
Note: Dave handles upwards of 100 emails a day and if it takes a while to get back to you please be patient.
If there ever was an opportunity for Veterans to stick together, this is it! Lets give Dave our support for his initiative!
Sincerely,
John Labelle
Veterans Annuity Campaign Coordinator ( florencejohn [at] ns.sympatico.ca )
"Support the Dignity of Veterans"
Download the signature cards here - print 'em and send 'em
--------------------------------------------------------------------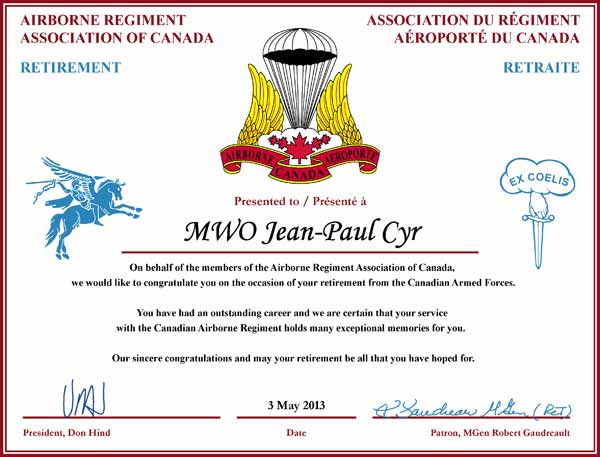 --------------------------------------------------------------------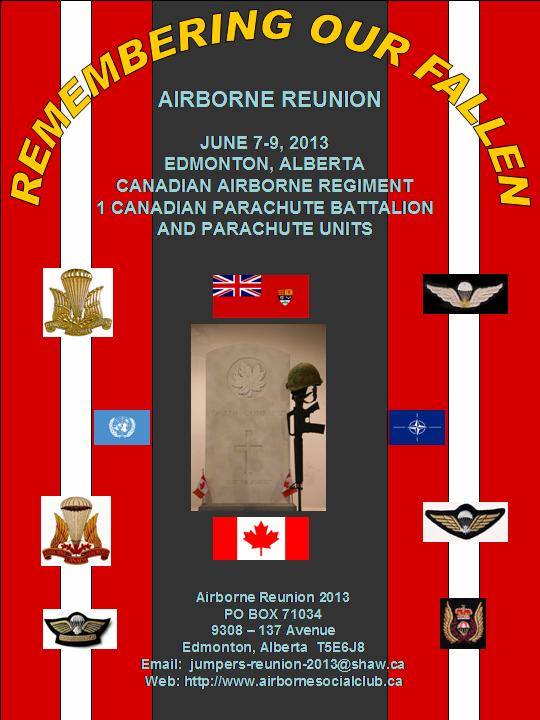 --------------------------------------------------------------------
Download the Story of Dien Bien Phu By Pierre Langlais
--------------------------------------------------------------------
-------------------------------------------------------------------
One more time - Fellow Jumpers,
I am writing to ask all members of ARAC and Paratroopers to once again answer the "riggers call" in support of the planned project for the Canadian Airborne Memorial Cairn, Edmonton, Alberta. In 2006, the Airborne Plaza and street names were dedicated in a special ceremony. This park was named after Perron and Berger. Many of you know, that Perron and Berger were two 1 Commando troopers who died during the 1974 Cyprus Conflict and were the only members of the Airborne Regiment who were killed in action but the Memorial Cairn will also represent all Canadian Airborne paratroopers who have fallen over the years throughout the world.
This Canadian Airborne Memorial Cairn will be the first of its kind that will not be on a Canadian military base but rather will be located in the former Griesbach Barracks where the Airborne Regiment was raised and where many soldiers served. The City of Edmonton and the Canada Lands Company are supporting the Canadian Airborne Memorial Cairn that is planned to be unveiled in June 2013. Bill Dickson and his "pathfinders" are in the lead to raise donations for the $65,000 dollars required to build this long overdue memorial.
Enclosed with this letter are the details of how you can support this Canadian Airborne Memorial Cairn. A special coin representing the Memorial Cairn will be sent for each $25.00 donated to the Airborne Regiment Association of Canada (ARAC). ARAC is donating the coin so that the entire $25.00 will go towards the fundraising.
Further details involving the unveiling of the Canadian Airborne Memorial Cairn will be provided as we get closer to the event. It is therefore very important to include e-mail addresses if you have one. There is no doubt that this will be a national event that will have a significant presence for currently serving, as well as retired military members.
Your swift support will ensure that we will have a Canadian Airborne Memorial Cairn which the Canadian public and all Canadian paratroopers can be proud of.
Donald Hind, ARAC President
ARAC is pleased to offer a special commemorative coin to support the fundraising effort for the creation of the Canadian Airborne Memorial cairn in the Perron/Berger Park in Edmonton, Alberta. The coin features the image of the new monument on the front
of the coin with the symbols of Pegasus and the Canadian Parachute Corps Crest. The Canadian Parawings are featured on the back of the coin. The coin is plated antique brass and is 42 mm in diameter with a thickness of 3 mm. It comes with a protective clear pouch and a descriptive card of authenticity. The coins have been donated by ARAC so that 100% of your donation will go towards the fundraising project.

To learn more or to order, click the coin to download a pdf
----------------------------------------------------------------
Dear Jumpers:
There is much more on this link besides the very important memorial to our fallen troops!!!! Check out the homepage sidebar for a number of extensive photographic galleries...
Unveiling of the Afghanistan Repatriation Memorial in Trenton, Ontario November 10th
It was a very moving experience.
Please follow the link to the pictures.
http://gusair.com/htdocs/html/trenton-afghan.html
--------------------------------------------------------------------------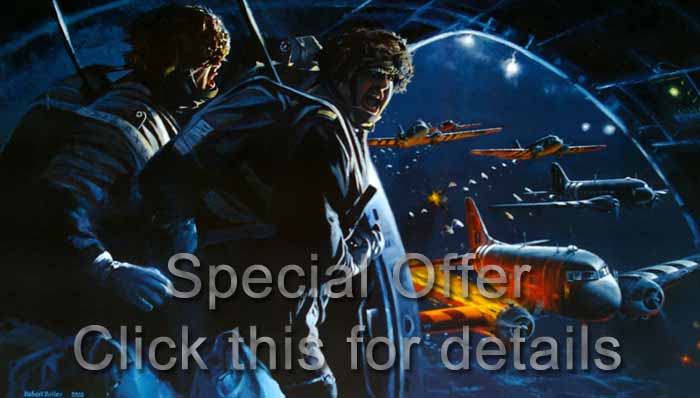 (Pop-ups must be enabled - or right click & open in new window)
----------------------------------------------------------------------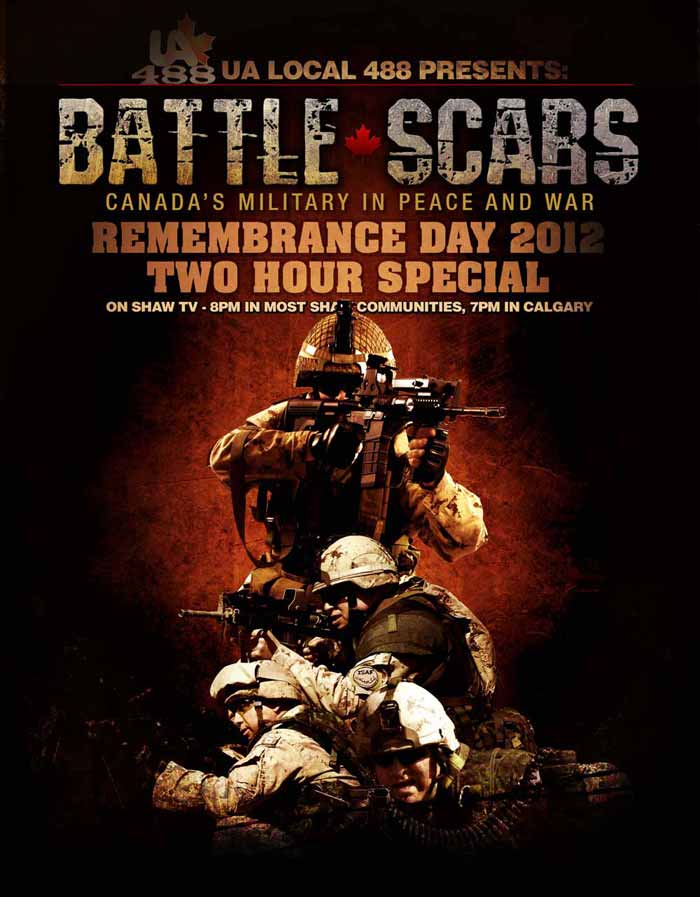 Dear friends and supporters,
It's Dixon Christie here – Director / Producer of Paratroopers and Battle Scars. It's been an amazing year for the Captain, Bill Johnston, and me. Together, while we complete our documentary series, we have produced over 50 new segments and released them in a 14 part TV series called Battle Scars. Shaw TV Has been airing our series in Alberta for the past 6 months.
"Battle Scars Season One – Two Hour Remembrance Day Special" is scheduled to air in all Shaw TV Markets this Remembrance Day Sunday. If you have friends in the following cities, please tell them Shaw will be airing the Battle Scars TV show at 8PM in most markets and 7PM in Calgary and others.
NOTE – If you cannot get Shaw in your area, the WHOLE SHOW will be available on You Tube for free viewing, free to broadcast and free to download. We will make the show live on Remembrance Day at this address: http://www.YouTube.com/HypeTVCanada
Thanks for all your support to date – We hope to see you soon as we continue our travels across the country!
Next Year with all of the great support, we plan to release "Battle Scars – Season Two" and "Paratroopers – The Canadian Story".
We Will Remember,
Dixon Christie
http://www.YouTube.com/HypeTVCanada
--------------------------------------------------------------------------
------------------------------------------------------------------------


CLICK HERE
---------------------------------------------------------------
--------------------------------------------------------------
--------------------------------------------------------------
-------------------------------------------------------------