- What's New -
CAFA/ARAC Airborne Forces Scholarship Fund 2016 Bursary
On behalf of the Board of Directors of the Canadian Airborne Forces Association and in cooperation with the Airborne Regiment Association of Canada, I am pleased to announce that the recipient of this year's $2000 Bursary is:
Miss Shaelyn Diana Littlejohn
Miss Littlejohn is the granddaughter of the late William "Billy" Willbond, who served proudly in the Canadian Airborne Regiment and had been a member of both CAFA and ARAC.   Shaelyn will be attending University of Victoria, enrolled in a Bachelor of Science Program in Chemistry.  Following attaining a BSc degree, her long term plans include entering a Medical course of studies, with the view to becoming a Medical Doctor.  
On behalf of the Board of Directors, I have personally thanked each of the applicants for considering our fund and extended to them the recognition that the accomplishments noted in their applications reflect very well on their abilities and character.  On behalf of the Canadian Airborne Brotherhood at large, I extended best wishes for every success in the future.
The cheque was presented to Shaelyn Littlejohn on Saturday 13 August 2016, at the Royal Canadian Legion "Trafalgar/Pro Patria" Branch #292, in Victoria, BC, at a ceremony coordinated by Alder (Al) Curry.  Al is a Director on the CAFA Board of Directors, a member of DZVI of CAFA Branch #8 Bornewest and is also a member of ARAC.   The presentation was made in the presence of Shaelyn's family and available local members of CAFA and ARAC. 
Rick Hatton
Scholarship Chairman, Canadian Airborne Forces Association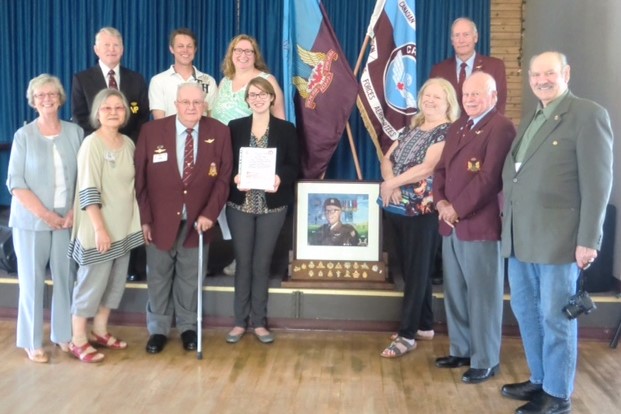 Front row: Pam Keith, Hiroko Currie, Al Currie, Shaelyn Littlejohn, Picture of Shaelyn's grandfather, William Willbond, Shaelyn's grandmother, Mary Lynne Willbond, Dave Munro, Tom Green

Back row: Jim Kempling, Shaelyn's father Warren Littlejohn, Shaelyn's mother, Paula Littlejohn, Rollie Keith (Pres CAFA Bornewest Branch #8)
---------------------------------------------------------------------------
THE CANADIAN AIRBORNE FORCES SCHOLARSHIP FUND
HAS BEEN INCREASED TO $2,000.00
TO APPLY, AND OR FIND OUT MORE INFORMATION, PLEASE CLICK HERE
---------------------------------------------------------------------------
We at ARAC would like to express our sincere condolences to the families of
Warrant Officer Patrice Vincent and Cpl. Nathan Cirillo.
May they rest in peace.
---------------------------------------------------------------------------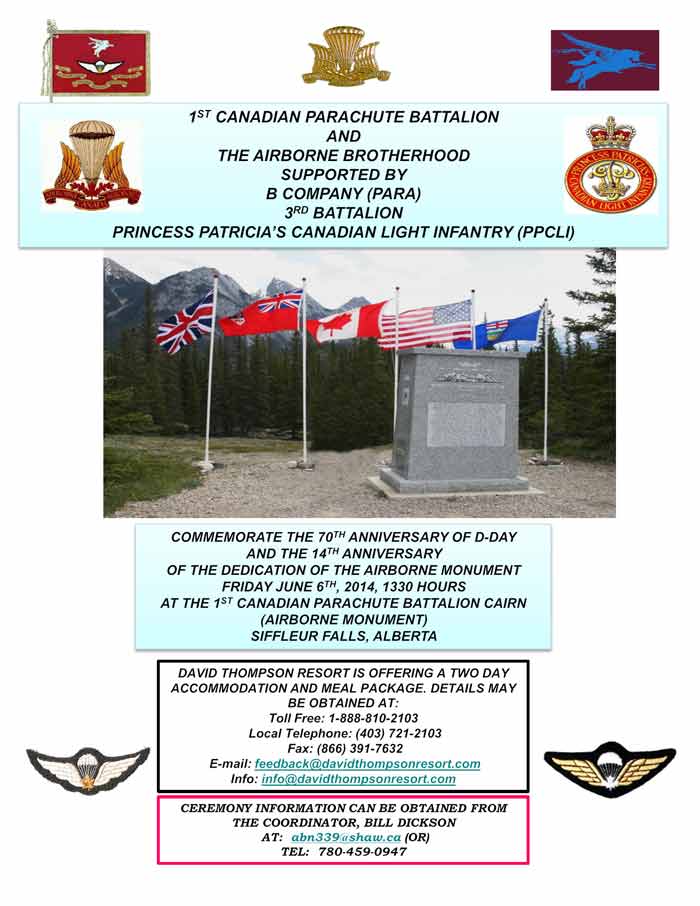 The following is a point form SITREP on events known to date relating to the subject ceremony.
- 5 June – arrivals/check-ins David Thompson Resort (DTR). Site check and place parking restriction signs in place at Airborne Monument.
- 1730 hrs 5 June P-Hour for scheduled planned paratroop drop in to Abrams Lake between Windy Point and DTR. Planned drop will be from a WWII DC-3 Dakota with approx 16 pers.
- Meet & Greet at the Bubble Tent DTR plus/minus 1900 hrs 5 June
- 6 June – Climb Team departs for Normandy Peak on Mt Ex Coelis at approx 0400 – 0500 hrs
- AM 6 June Breakfast at DTR
- Airborne Monument site set-up between 1000-1100 hrs 6 June. Flags, Wreath Section, chairs and parking signs in place
- 1300 hrs RV for 1330 hr Ceremony at the Airborne Monument site (Siffleur Falls Staging Area 18 kms west of DTR) Note: parking will be restricted. Climb Team should arrive back in time for parade. High performance paradrop on site TBC.
- Ceremony takes the form of a Remembrance Day Ceremony with Colour Party and will last approx 1 hour. A number of seats will be available for the VIPs and guests. A Wreath Section will be available. Buglers and Pipers will be on parade. Parade will have a sound system. National anthems will be played.
- Post-ceremony photo ops will be open for all.
- Site take down.
- Post parade reception and BBQ at 1800 hrs in the Bubble Tent (DTR). Bar opens at 1600 hrs same place.
- Photo op/interview possibilities will take place at the BBQ reception. Press and film coverage will likely be on site for all events!!
- Airborne Kit Shop options will be available at both the Meet & Greet on the 5th and at the BBQ on the 6th.
- 7 June is the departure breakfast and good bye for those that took the DTR package deal!
Added Notes:
The Ceremony goes rain or shine. For those that have participated at anytime over the past 14 years you will know that weather here is 60/40 split as to what it will be at anytime, at any place, in this area. Come prepared for the "anything- anytime" option!!
Parade Dress for Active Force Personnel is their own Combat/CADPAT Field Dress. For Veterans and Association personnel it is Association Dress with medals and berets. Any guests or VIPs that want to wear Dress Uniforms with medals may do so if they wish.
Any dignitary/major organization or Unit rep that wishes to address the parade is asked to please contact me well ahead of time. Preferably before the 5th June.
Any personnel/organization wanting to lay a personal wreath during the ceremony is asked to contact me before the parade starts! We will have the primary wreaths for the Nations and Associations on hand.
There may be representative re-enactment personnel and vehicles on site. And, there may be "black powder" gun salutes this year. Forewarned is forearmed!
In summary, I look forward to seeing all returnees again this year and, of course, am thrilled at the knowledge this will be a truly International event marking the 70th Anniversary of D-Day and the 14th Year Since the Dedication of the 1st Canadian Parachute Battalion Cairn (Airborne Monument) with the added attendance of contingents from the UK Parachute Regt from BATUS (Suffield, AB) and US SFG(Abn) Ft. Lewis. Coupled with our own members from the 3rd Bn PPCLI (Para Coy) and airborne veterans – including at least five original WW II 1 Can Para Bn and two FSSF veterans – this year's ceremony is turning into a momentous event.
Safe journeys to you all. See you at Siffleur on the 5th.
Airborne and God Bless
Capt (Ret'd) Bill Dickson
Coord/MC
70th Anniversary D-day Ceremony
Airborne Monument Siffleur Falls Staging Area
780-459-0947 or Daytime Cell 780-893-1789
----------------------------------------------------------------------
Download a PDF of Canadian Forces in Afghanistan
----------------------------------------------------------------------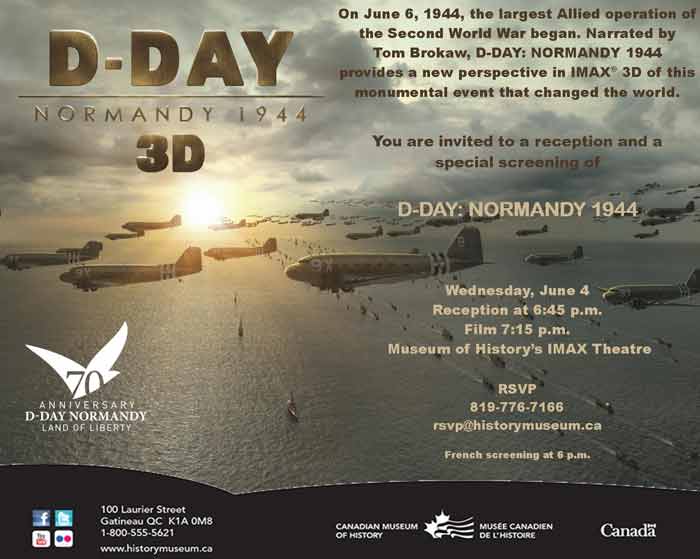 ----------------------------------------------------------------------
It is with great sadness that the Airborne Regiment Association of Canada (ARAC) learned of the passing of LCol Bobbit CO 2RCHA.  On behalf of the Airborne Regiment Association of Canada, we would like to express our deepest condolences to his wife, all the members of his family and friends.  He will be sadly missed by all who have known him. 
May he rest in Peace.
We wish a speedy recovery to those soldiers who were injured in this unfortunate training accident.
 Lieutenant Colonel Donald Hind, CD
            President
For more info download this DOC file
-----------------------------------------------------------------------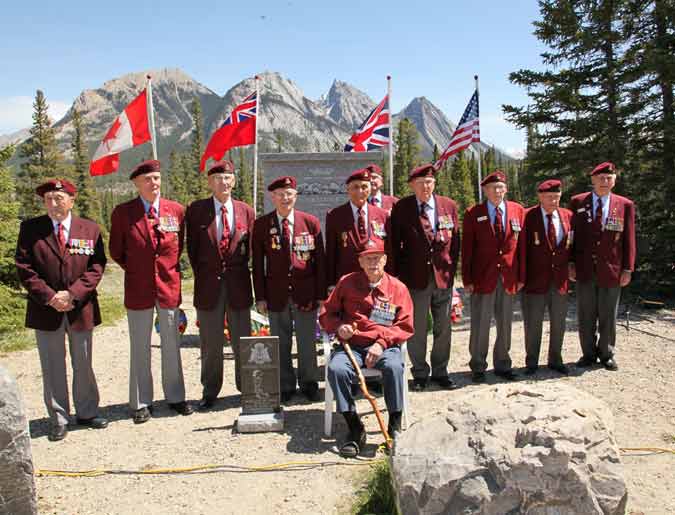 Jumpers at last year's reunion (2013)
70th Anniversary of D-Day Ceremony – 5-7 June 2014
Cairn of the 1st Canadian Parachute Bn , Siffleur Falls, AB
In the October 2013 issue of the ABSC Newsletter, we clearly indicated our plan to hold a ceremony again this year at the Airborne Monument at Siffleur Falls. It should have been obvious to anyone in the Airborne Brotherhood that this year – the 70th Anniversary of D-Day – would be a very significant event. So planning is now going forward to prepare for this auspicious occasion, and again gather in comradeship and dedication as we parade at the Airborne Cairn in the shadow of Mt Ex Coelis.
As we all know, the numbers of the WW II veterans are diminishing each year; yes, even daily. With that fact in mind, when we think of this upcoming ceremony it presents us with a real challenge in planning the event. Indeed, it actually dictates a responsibility for us in the Airborne Brotherhood to ensure we succeed in this planning. In no less a way, it dictates a responsibility for us to support the event by attending – especially now.
We have coordinated the rates for the package deal at the David Thompson Resort (DTR) for this year. Our hosts for the past 15 years in support of this event, the following is the "Package Costs for the 2014 Airborne Event" set out by the DTR.
Package costs:
Campground with meals (to include; breakfast 2 days, lunch, BBQ Meet & Greet)
1 person:$185.14 tax and grats included
2 persons: $284.69 tax and grats total
Motel ($110.00/night)
1 person: $339.34 total
2 persons: $438.89 total
For the motel this year…they happily offer a special 70th Anniversary discount of ½ price on the 2nd night for the complete package deal. That is a $55.00 reduction…so for the motel for one person: $279.39 and for 2 people: $378.94
Anyone wishing to register for the event now may do so by calling 1-888-810-2103. For those staying at the motel, it would be a good idea to book early!
Currently, members of the 3rd Bn Princess Patricia's Canadian Light Infantry Parachute Coy are planning to join us for the ceremony.  All conditions being equal, they will again attempt the accent to Normandy Peak on Mt Ex Coelis prior to the formal parade. This is achievement that has been accomplished no less than 10 times in the past 15 years.
Also, in our planning preparations this year we will be soliciting attendance support from various Federal, Provincial, Royal Canadian Legion and other national organizations. With the emphasis again on the importance of this date, we can't stress the significance of the ceremony to, and for, the members of the Airborne Brotherhood. That said, we will endeavour to do our very best to make the 70th Anniversary Ceremony a success for our senior veterans.
It goes without saying then, that success depends on our – the Airborne Brotherhood's – attendance! It's our Airborne Monument and it's our responsibility to support this annual event. We encourage and welcome the attendance again of returning veterans and their families. We challenge those of you who have never made the trek, to do so this year!  You won`t regret it!
We look forward to seeing you all at the Airborne Monument at Siffleur Falls for the 70th D-Day Anniversary Ceremony. For questions regarding the ceremony you can also contact the planning committee at abn339@shaw.ca, or call Bill Dickson 780-459-0947.
Airborne!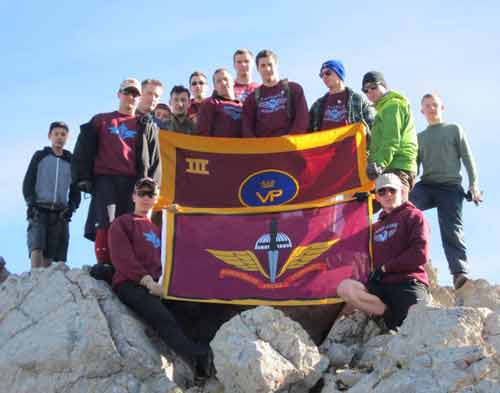 --------------------------------------------------------------
Former Jumper Rick Kurelo has penned a book.
FIREFIGHT will be available some time in May.

You can also follow him on Twitter - #firefight2014
--------------------------------------------------------------
Huronia Branch (CAFA) Winter 2014 Newsletter
--------------------------------------------------------------